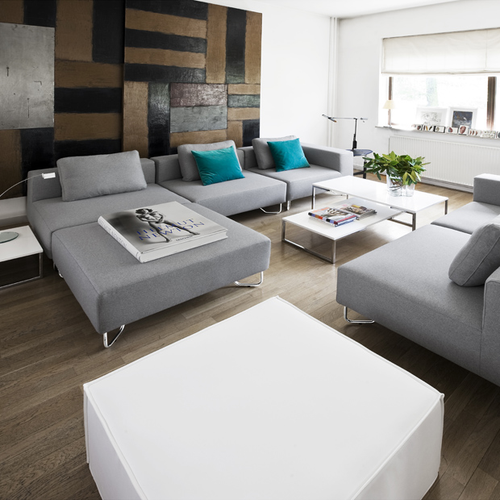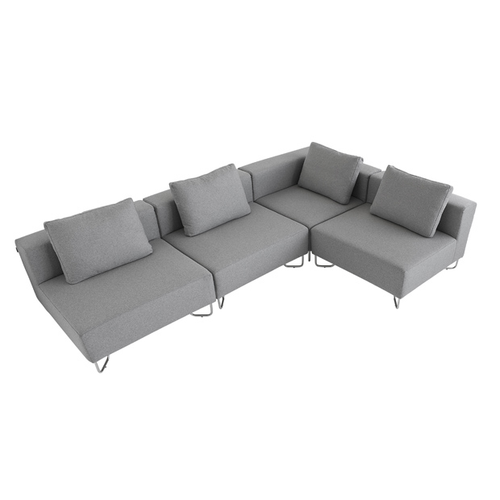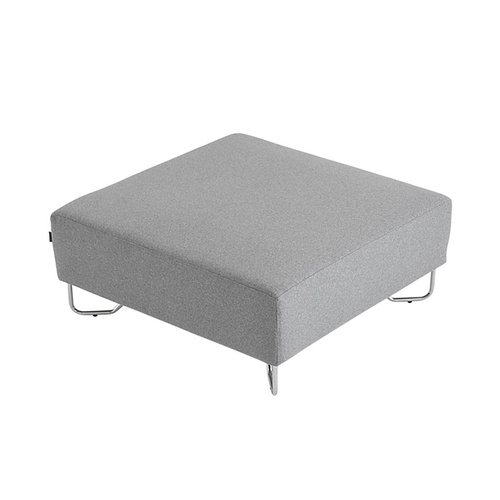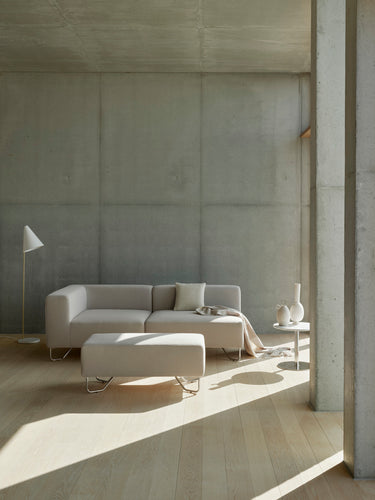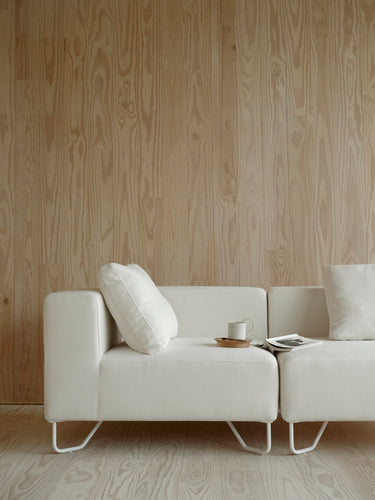 Softline
The Binning
Contact us for pricing
Designer: Stine Engelbrechtsen, 2005
Manufacturer: Softline
Dimensions (LxDxH):
Corner and Single Elements: 98 x 98 x 74 cm (38″ x 38″ x 27″)
Footstool: 98 x 98x 42 cm (38″ x 38 x 16″)
Country of Origin: Denmark
Materials: High Density Polyether Foam, Metal Frame With Moulded Wooden Slats, Metal Legs
PRICING
Corner Element: $1150 (Vision), $1250 (Felt/EcoCotton), $1400 (Nordic)
* includes one back cushion
Single Element: $1000 (Vision), $1100 (Felt/EcoCotton), $1250 (Nordic)
* includes one back cushion
Footstool: $700 (Vision), $800 (Felt/EcoCotton), $950 (Nordic)
Visit the Softline website to view all fabric/color options.
Why is it Special?
The Binning is a modular sofa system. It is comprised of 3 elements: A corner, single, and a footstool. The elements are purchased individually and are easily combined to create unlimited combinations. It therefore is suitable to both small and large spaces. Each piece is approximately a one meter cube, and therefore they fit together on all sides. For example, the corner can be rotated to be a left or a right. The elements also come with brackets which allow them to be held together on the underside.
Also available with wood legs (see The Passion).
FABRICS
Felt (80% wool, 20% polyamide)
Vision (60% cotton, 20% acrylic, 10% viscose)
EcoCotton (75% Cotton, 20% PolyAcrylic)
Nordic (38% cotton, 18% viscose, 24% acrylic, 12 % wool, 6% polyester, 2% polyamide)
ABOUT OUR SOFAS:
Softline sofas feature high quality, eco-friendly materials, are made in Denmark, and come in a variety of fabrics (made in Italy). We have a large selection of various colors and fabrics for each style of sofa warehoused here in Vancouver. They are available for immediate delivery. We are happy to ship furniture anywhere in North America. If we don't have what you want in stock, we will special order one for you, and the lead time is approximately 3-4 months.
Some of the features are:
all materials meet the Öko-Tex Standard 100 for environmental sustainability in Europe
free from all stain guards, fire retardants, and PBDEs. No Off-Gassing!
removable covers for easy dry-cleaning and stain removal
additional slipcovers and various sizes of cushions are available
* Because of the size and weight of this item, free shipping does not apply. Please provide your shipping address and we will get back to you with a quote as quickly as possible.